PRODUCT OVERVIEW
The 92X Performance was created to satisfy two requirements: Speed and accuracy. Beretta's new competition pistol is uncompromising and aims for top performance, offering the world of competitive dynamic shooting one of the most reliable and world-renowned locking systems, together with a steel frame, a heavier Brigadier slide and the new Extreme-S trigger mechanism.
Technical choices, such as the Vertec steel frame and the Brigadier slide, take the weight of the 92X Performance to 1350 g, a key weight which increases the pistol's stability and reduces muzzle rise when shooting. The oversized magazine and the rear chequering, which can also be found on the front of the frame, improve the pistol's handling as well as its grip. The raised frame profile near the magazine release enables the shooter's hand to sit as high as possible on the hilt, which itself is also oversized to enable a deeper hold. The magazine release is oversized and reversible and an adjustable version is available on the aftermarket. Safety on the frame is ambidextrous and is available in three different size profiles, making it adaptable to various hand types and different IPSC divisions.
To enable even faster cycle time, the 92X has a skeletonized hammer with a competition standard hammer spring. The new Extreme-S trigger mechanism keeps the striker automatic safety latch active ensuring the safety of the pistol in case it falls but decreases trigger reset by up to 40%. With the Extreme-S the 92X Performance has an "out of the box" weight of 1.5 kg in single action and 3 kg in double action. The saw-toothed handling grooves on the front and rear of the Brigadier slide ensure maximum grip during slide movement, in all conditions. The steel spring recoil rod ensures maximum operational accuracy. The area where the finger rests on the trigger is chequered and was redesigned to achieve a vertical front profile in single action.
The "Match" take down lever ensures a precise reference point for the second hand. The "hold open" lever profile is lowered and is of the "stealth lever" type, so as not to interfere with the finger resting on the safety lever during the out of ammunition warning.
The front bead is equipped with a red fibre optic insert to enable quick and accurate aim realignment, it also has a rear sight, without colored references, which can be adjusted laterally and vertically to the micrometre.
Features
Sawtooth front and rear serrations
Skeletonized hammer
Extended beaver tail
Full Steel vertec frame
Match take down lever
Red fiber optic front sight system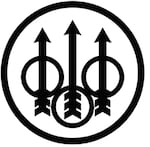 Specifications
Product Information
| | |
| --- | --- |
| Cartridge | 9mm Luger |
| Capacity | 15+1 Round |
| Weight | 47.61 Ounce |
| Barrel Length | 4.9 Inches |
| Action Type | Semi-Automatic |
| Trigger Type | Double/Single action |
| Safety | Ambidextrous Thumb |
| Threaded Muzzle | No |
| Barrel Finish | Black |
| Front Sight | Fiber Optic |
| Rear Sight | Adjustable |
| Frame Material | Steel |
| Grip Material | Rubber |
| Frame Finish | Nitsan Alloy |
| Magazine Quantity | 1 |
| Slide Finish | Nitsan Alloy |
| Grip Style | Textured |
| Grip Color | Black |
| Compensated | No |
Delivery Information
| | |
| --- | --- |
| Must Ship to FFL Dealer | Yes |
| Shipping Weight | 3.000 Pounds |
You must be 18 to purchase rifles or shotguns and 21 to purchase handguns, actions or receivers. All firearms must ship to a valid FFL Dealer and cannot be changed or cancelled after they are placed. If your order contains a handgun which ships from MidwayUSA, the handgun, and any additional firearms shipping from MidwayUSA on the same order, must ship Second Day Air. If your order does not contain a handgun which ships from MidwayUSA, any shotguns, rifles, actions or receivers shipping from MidwayUSA will ship via UPS Ground. The Supplier determines shipping methods for firearms which ship from a Supplier. Shipping charges for firearms are calculated separately from other products on your order and will incur a separate Per Order charge. Firearms cannot be returned to MidwayUSA; please contact the manufacturer for warranty claims. Firearms refused by the FFL Dealer or which cannot be transferred due to a failed background check will be subject to a 10% restocking fee. By ordering this firearm, you certify you are the actual transferee/buyer of the firearm, are of legal age and satisfy all Federal, State and local legal/regulatory requirements to purchase this firearm.